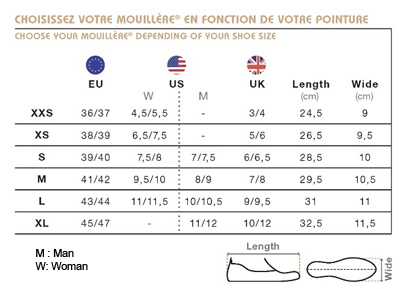 To put them on: The mouillère® has a unique shape for both feet. In order to fit as many shoe models as possible, the mouillère® is pointed at the end. The first few times, to make it easier to put on the mouillère®, it may be useful to proceed as follows:
- turn the back of the mouillère® upside down,
- put the end on the shoe,
- pull and turn the back over the heel,
- with the tongue, pull up the mouillère®.
Use : The mouillère® can be used on various types of terrain. However, it is advisable to avoid surfaces with sharp edges (rocks, scrap metal, etc.) that can cut the material.
You can customise your mouillère® by drawing on them with a felt... It can be erased with a sponge but it will make you irresistible for an evening... So be creative!
And don't forget that a mouillère® can also be accessorised with clips.
Finally, match the colour of your mouillère® with your tie, scarf, scarf, handbag, bike...
Dare the colour, bring joy and positive energy!
It is possible to customise the galoshes mouillère®. The customisation can be done either by hand with a felt pen (extra charge of 1€50) but with time the drawing may fade. It is also possible to make a permanent laser engraving or a print in tampography. Please contact us for more information.
For maintenance: You can clean your mouillère® with a sponge, soap and water.
Caution : On some floors (glass, marble, metal,...) the mouillère® can slip. We do not recommend the use of the mouillère® on escalators.